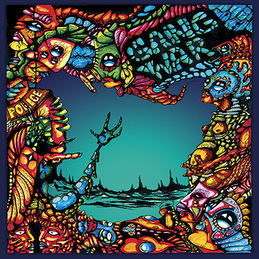 FANATIC!, Henry Rollins's weekly radio show on the Los Angeles station KCRW recently played Frederick Michael St. Jude's long lost album
Gang War
. Originally recorded in 1982, it's a nice shock to hear an album like this suddenly come to light in the year 2015. The album is a sprawling, hour-long prog/glam-rock opera that recalls Rush, David Bowie and The Who. It's an eclectic mix of sounds, with strummed folk guitar musings, strobe-light synths and hard rock bombast. Henry's radio show where the album was played can be streamed here:
http://www.kcrw.com/music/shows/henry-rollins/kcrw-broadcast-324
Much like other sprawling musical works, Gang War is chock full of both great songs. Call it personal taste, but the reason The Who's Who's Next is better than Tommy is because it's simply a record of songs, free of directionless musical interludes that clog up valuable time. Despite its massive scope, Gang War doesn't have much in the way of filler, sticking mostly to hook-filled songs that follow a loose narrative about a dystopian future where society has collapsed and gangs continually fight in a state of anarchy.
The opulent arrangements of Ziggy-era Bowie is a kind of music that, besides Ty Segall, bands are not really exploring these days.
Jobriath
is the closest person I've ever come to unearthing an alternative Bowie, but
Gang War
certainly evokes a
Diamond Dogs
vibe.
The story of the struggle to get this album made is just as compelling as the record itself, and Henry Rollins interviewed Frederick Michael about its creation, which be read here:
http://noisey.vice.com/blog/frederick-michael-st-jude-henry-rollins-interview
Its origin story is a great lesson for struggling musicians, as Frederick Michael pulled every string he could to get the record made. With awesome guitar runs, cool effects, and a balls-to-the-wall rock n' roll feel,
Gang War
was certainly worth both the effort and the wait.
Gang War
is now out on Drag City, you can buy it here:
http://www.dragcity.com/products/gang-war